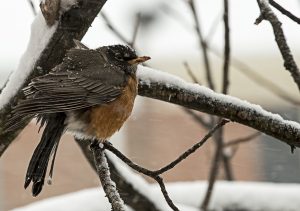 Through chit chat in the locker room this morning (thank you Pam and Susan), I became aware of this birding event that any bird lover can participate in!  I love birds! There's something soothing and relaxing about watching them zoom in and out at the feeders. They all just seem to get along, taking turns and being nice to each other!
At this time of year, I think we all get excited to see the Robins, the sign of spring!  I especially love the "Robin in the Snow".
According to the Audubon website , the 20th annual GBBC will be held Friday, February 17, through Monday, February 20, 2017. This website has instructions and links for those of you who would like to participate.