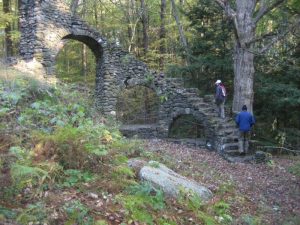 Tonight in the locker room, I overheard a couple of women talking about this great little hike out in Chesterfield, the Madame Sherri Forest.  I've hiked there several times.  It is beautiful any time of year, and dogs are welcome.
This area of hiking trails is part of the Society for the Protection of NH Forests, the land being donated by the late Anne Stokes.  Who is Madame Sherri?  She was a flamboyant costume designer for the Zigfield Follies in the 1920's.  She built a country home, her castle, in the the secluded woods in Chesterfield. The castle was destroyed by fire, vandalism, and neglect, but the foundation and staircase still remain.
The hiking trail begins on the left, just before heading straight ahead to see the ruins.
More information, trail map, and directions please visit http://www.chesterfieldoutdoors.com/madame-sherri-forest.